Serving the yoga and holistic health community for over a decade — we're here to serve you through the long days of summer!
Check out our practical solutions for your meditation and yoga practice, stress reduction, and our array of self-help & vibration products. In addition we've got free mindfulness articles in our blog.
Bring harmony and balance into your life with BodyMindWisdom. We're serious about holistic health—read more…
Featured Products
Back Jack chairs are popular, sturdy, economical portable meditation chairs for floor sitting.  Made in the US, Back Jacks feature a soft 10-oz cotton duck fabric cover or a newer "tuff-duck" polyester fabric, over a rigid, lightweight, steel rustproof frame. Back Jack seat cushions are heavily padded for comfort.
Buy Now
If you have myopia (nearsightedness), hyperopia (long-sightedness), presbyopia, astigmatism, computer vision syndrome, or cataracts—you could benefit from myopia pinhole glasses. Choose from our wide selection of Modern and Traditional Designs to decide what "look" to wear.
Buy Now
Yoga Paws are patented grips that fit on your hands and feet for non-slip control when practicing yoga or Pilates. Compact enough to fit in your sock drawer at home or in your desk drawer at the office, yoga paws are there when you're ready to bless yourself with your yoga routine.
Buy Now
View More Products…
International Shipping
For orders outside of the US (including Canada, Australia, United Kingdom, Israel, and India, for example) for products where we don't normally ship internationally, we've collaborated with Borderlinx, a FREE service that has the lowest negotiated rates…
Read More
FAQ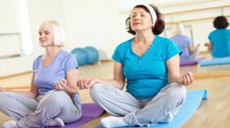 Is it safe to shop on-line at BodyMindWisdom.com?
We understand your concerns about internet activities and online shopping. Since we shop online ourselves—we place a strong emphasis on online security.
Read More