Back Posture Support
Most
back posture support devices
and
lower back support products
don't solve the problem of slouching. In many cases, these products can contribute to slouching because they don't provide adequate support for the lower back—where support is essential for healthy, comfortable, and correct posture.
FREE Ground shipping (48 states) on orders over $100!
How the Nada Chair works
The revolutionary Nada-Chair is patented and is recommended by doctors!
The popular Nada Chair line of compact, back-posture support slings allows you sit comfortably for hours with effortless good posture–and without slouching!
When you sit forward, the Nada back support follows your movement. Because the NadaChair follows your body movement, you enjoy a continuous, firm, adjustable, and dynamic support hugging your lower back.
"The NadaChair acts like an extra muscle that never tires," explains Arthur White, MD. By using your knees to support and stabilize the pelvis, your back muscles are relieved of their isometric tasks. The pelvis serves as a stable pedestal to allow the spine to rest — contributing to restoring the natural curve of your spine.
All Nada-Chairs effectively prevent slouching while relieving back pain characterized by prolonged sitting. The Nada Chair works by using your knees to stabilize the pelvis and keep your back in an upright position. The result is lower back pain relief!
Doctors worldwide have been using and recommending Nada Chairs for over 25 years, teaching their patients to sit properly. These health professionals stress the importance of protecting patients' intervertebral discs by maintaining good posture during sitting. The Nada-Chair serves to avoid muscle fatigue over time – which is a main cause of slouching, and which can lead to permanent disc degeneration.
Read some FAQ's and a few of the many testimonials about the Nada-Chair below.
Will use of the Nada-Chair slings weaken my back muscles over time?
Empirical results show just the opposite! Doctors throughout the world use the Nada-Chair to teach their patients to sit straight. Once adopting new habits of good posture, users find it easier to sit properly with or without supports.  The Nada Chair acts primarily as a guard against slouching and disc damage because it works like an extra muscle to keep the back supported.  (A major contributor to back disease and weakness is the common office chair that provides an illusion of support while causing the user to slouch against the backrest.)

Will the Nada-Chair support improve the health of my back?
Absolutely! By keeping you from slouching, the Nada-Chair can actually prevent progressive spinal deformation and disc degeneration. Maintenance of the alignment of the vertebrae with its natural curves is critical to the long-term health of your back.

Will the Nada-Chair cut off the circulation to my legs?
No. The Nada-Chair is designed to distribute pressure and to maintain good blood circulation. Major blood circulation vessels for the legs pass behind the knees. The support pressure of the Nada-Chair straps bears in front of the knees, on the shinbone. So the Nada design serves to absorb pressure without affecting blood circulation. Keep in mind that blood circulation in the legs and back is generally enhanced by movement. So even though the Nada supports make it comfortable to sit for longer periods, we recommend you occasionally get up, stretch, and move your legs.

Which Nada-Chair is best for me?
Back-up? S'port-Backer? LumbarJack? Slouch!Buster?
Three considerations can help you make a good decision: 1) your body size; 2) the activity you plan; and 3) the need for accessories/additional cushions and straps. The basic support system  is identical in all Nada-Chairs; so the primary difference is overall size and the varying extent to which pressure is distributed on the back and knees.

The Back-Up is the choice for those who want additional cushioning with over twice as much cushioning area on the knee and back, compared to other S'port Backer. The Back-Up is recommended for anyone with a bigger body build and for long-term sitting tasks such as computer work – no matter what your body build is. The Cush-Shins that come with the Back-Up serve to distribute pressure on the knee and shin, enhancing comfort for longer sitting periods. Optional Stretch Straps engage the feet to allow hamstring stretching or long-sitting on the ground. Cush-Shins come included with the Back-Up, whereas Stretch Straps may be ordered separately.

The S'port-Backer is the best support solution for those of small or medium body build and/or who plan activities that require frequent standing up and down. It is light and stores compactly. It provides padding for the knees that is upgradeable with the purchase of accessory Cush-Shins and/or Stretch Straps.

Whereas all of the other Nada-Chairs cannot be used while driving, the LumbarJack has been specifically designed to for use while driving. It can also be used as an industrial lumbar belt support by removing the optional detachable Driving Straps and Sitting Straps – options which may be ordered separately with the LumbarJack.

The Slouch!Buster provides great support but without knee cushions – more appropriate for medium to lighter body frames – including kids. The Slouch!Buster could be the best choice for the occasional user, such as a camper or traveler who needs the smallest/lightest possible size Nada chair. The Slouch!Buster is also a perfect choice for children.

How do I know when I have adjusted the Nada-Chair properly?
Like a good fitting pair of shoes, the Nada-Chair should fit snugly, but not too tightly. Much of the adjustment is self-corrective, meaning that if you feel uncomfortable over time, simply adjust the straps slightly. The goal in adjusting the Nada chair is to keep the lower back supported just enough to prevent the slouching that leads to back pain. It is recommended to vary the support by alternatively tightening and loosening the straps when you are sitting for prolonged periods.

How high should the back pad be on my back?
The back support cushion of the Nada chair should span the lumbar spine with the back cushion approximately centered on your waist line. Experiment until you find the most comfortable position.

Can I use the Nada-Chair in an aircraft, soft chair, or couch?
Yes, the Nada-Chair will effectively improve your posture in any chair. The Nada-Chair back sling provides the additional lumbar support lacking in most seat backs. When using the sling to augment an existing back support, it isn't necessary to tighten the straps as much as when you are depending on the sling for full support.

Can I use the Nada-Chair while wearing a dress?
Yes. Simply tuck the dress or skirt down enough to allow the straps to engage the knees.


The following are but a few of the testimonials from health-care professionals and related magazines about the Nada-Chair.

One of the most comfortable means of sitting that I have experienced.
Arthur White, Orthopedic Surgeon

Helps maintain correct posture and eliminate back strain-very comfortable and supportive.
Julie Cuisias, Physical Therapist

NadaChair helps stabilize the pelvis and relieve muscular stress. It can be used in conjunction with conventional seats such as office chairs, couches, passenger seats in cars, buses, airplanes or trains.

Nada-Chair has won the endorsement of the World Chiropractic Alliance
Terry A. Rondberg, Chiropractor

Alleviate lower back pain and tight neck muscles with Back-Up. The back support secures the lower back and relieves stress on upper area muscles caused by long periods of sitting. The Back-Up is easy to use – ideal when sitting on benches and stools, at ball games or concerts.

I have two degenerated discs & suffer with pain. I tried your product and I am very impressed!
Tammy Young, R.N.

This user-friendly device keeps the pelvis tilted forward to prevent slouching.
Back-up
The top-of-the line Nada-Chair for maximum support.

Chronic back pain sufferers who can't find comfortable ergonomic chairs—but who must sit all day in office chairs—welcome the pain relief the Nada Chair Back-Up lumbar support affords. This ergonomic back support can also be helpful for women suffering low back pain from pregnancy.
The Back-Up comes with additional knee-shin cushions—called "Cush-Shins"—to distribute the leaning weight over three times as much area of the upper shin. This back posture support device's knee cushions and back pad are twice as thick as the next-in-line S'portBacker. For this reason, Back-Up is the first choice for those with bigger body builds.

In addition, optional "Stretch Straps" that lengthen loops to engage your feet, can be ordered with the Back-Up. With Stretch Straps, you can lean against your feet to sit on the ground, read in bed or do stretching exercises without compromising your lower back.
The Back-Up is available in two durable, comfortable, and attractive colors.
DIMENSIONS:
Back-Up lumbar pad: 1/2″ thick, 7″ high, 20″ wide
Zipped: 3″ x 7″ x 10″
Click for additional Back-Up information
Kiddy-Up
A highly-adjustable Nada-Chair for kids.
Most back posture support devices and lower back support products don't solve the problem of slouching. In many cases, they can even contribute to slouching because they can't provide adequate support for the lower back—where the support is essential for healthy, comfortable, and correct posture.

The Kiddy-Up promotes a healthy back for your child and it is recommended by pediatric physicians and physical therapists.
This Nada-Chair includes a Slouch!Buster with a pair of Stretch Straps for easy long-sitting and stretching hamstrings. Stretch Straps allow children of any age (and adults, too) to stretch or sit comfortably erect almost anywhere—cross legged or seated in chairs.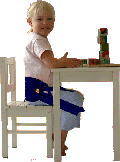 Kiddy-Up comes in 3 great colors: Blue, Navy, or Green.
S'port Backer
The popular balance between comfort and function.
Those who suffer from back pain while working in a sitting position for extended periods or from slouching during any variety of outdoor activities can find quick back pain relief from the S'port Backer lower back support. Use it as a meditation tool for improving posture while sitting cross-legged for yoga.

The S'port Backer, our middle-of-the-line back sling, is approximately one half the size of the top-of-the-line Back-Up. S'port Backer targets the lower back more narrowly with a six-inch high back pad.

For those of small or medium body build, the S'portBacker provides an optimum balance between comfort, function, and price. The S'portBacker is small enough to fit in any journey bag so it can be used, for example, on long flights instead of the pillows provided by the airlines.
You can upgrade your S'portBacker lower back support with accessory Cush-Shins ($17) and Stretch Straps ($17).
S'portBacker is available in 4 colors AND in our new hemp-natural fabric, a natural colored hemp/cotton blend that is durable, comfortable, and attactive.
DIMENSIONS:
S'port Backer lumbar pad: 1/4″ thick, 5.5″ high, 10″ wide
Zipped: 2.5″ x 5″ x 8.5″
Click for Additional S'port Backer information
LumbarJack
Versatile chair back support or a driving back rest.
The LumbarJack is one of the best selling lower back support products available on the market. It includes an industrial back support lifting belt that converts to an ergonomic chair back support or a driving back rest by snapping in two accessory straps – which may be ordered as options. Now you can improve your posture while relieving back pain due to sitting long periods on office chairs or driving. Of all the Nada-Chairs, only the LumbarJack is recommended for driving.
The LumbarJack is the most versatile of all the Nada-Chairs and it is designed to provide dynamic support and comfort for the low back. Starting with an industrial quality lumbar support belt, the patented LumbarJack can be ordered with a set of optional Driving Straps and a set of optional Sitting Straps.

The optional Driving Straps are easily attached to the support belt and Driving Straps use reverse pressure from the knees and feet to support the back. They include elastic band straps, passing over the knee, which free the legs for a full range of uninhibited motion—perfect for driving. Optional Sitting Straps convert the back support into a comfortable chair that you wear – allowing you to sit comfortably anywhere, in any position, even on the ground.
Click for additional LumbarJack information
BackRx
The compact and basic support for the frequent traveler and for kids.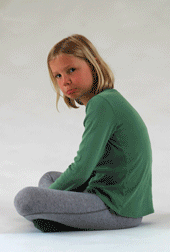 BackRx® is an all-elastic version of Nada-Chair's clinically proven line of back supports for sitting. In addition to providing comfort and instant relief from back pain, the BackRx® provides the additional benefit of following you when you lean forward to work.
The belt easily retracts to conveniently stay in place on your back when you are up-and-down. Loops made of doubled 3-inch elastic comfortably loop your knees and traverse your lumbar spine—keeping you effortlessly upright.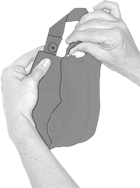 One size fits most adults in BackRx® but a KiddyRx is also available for children up to 90 lbs. BackRx® is available in black color.
The BackRx® converts easily into its own storage bag for travel.
Click here for additional BackRx information
DIMENSIONS:
BackRx®: 3 " double ply elastic that provides 6″ high span for lumbar area with pouch that can accommodate hot/cold pack.
Storage Bag: 7″ x 6″ x 2″
US Ground shipping is FREE (48 states only) for orders over $100!
We now ship EVERYWHERE worldwide.
US 48 states Ground shipping for orders under $100 is $5.95.
3-day shipment within the Continental US — please add $14.00.
Regular shipment to Hawaii and Alaska — please add $12.50.