We're happy to announce a partnership with PassItOnword
®
and we're excited to share this wonderful idea with the world. Many people have heard of the expression "pay it forward". This is where someone does nice things for the next person with the hope that they will then do the same for someone else who follows them.
PassItOnword® was created to show how one kind act can lead to hundreds of others. Using beautiful semi-precious stones

as the vehicle for giving, people communicate their appreciation and kindness to the next person.
See how one word and one action can make a difference!
How it works:
You purchase a stone or receive a stone from someone else. When you receive your stone, on the back of the stone is a unique code you register on our dedicated site.
On the site, you post your story about why you purchased the stone/why you received the stone from someone.  You can decide to keep your stone—no problem! You can make as many posts as you wish about how the stone has empowered or inspired you.
When you pass the stone onward, a chain of kind acts begin.  The new recipient can then register and share his/her story.
Following your stone
As your stone is passed to others, you can follow the stone and the stories others share. A map shown below the owner(s) of each stone charts a stone's journey.
Following other stones
Registered users can search and read stories by stone type, word, stone number, or organization.
Charities
PassItOnword® has aligned itself with two wonderful charities:
Alex's Lemonade Stand Foundation which helps combat childhood cancer, and
charity: water  which is a non-profit organization bringing clean, safe, drinking water to people in developing nations.
When you purchase and register a new stone, 1% of the proceeds go to one of these charities. If you are the purchaser of the stone, you may choose which charity.
See how one word and one action can make a difference!  Buy a PassItOnword® stone today and start acknowledging the little things that people do for you…it's contagious!
Purchasing a Stone
You can purchase one or more of our seven semi-precious stones with dedicated words, as shown below. Each of our beautiful, natural, semi-precious stones is unique. Choose from:
Strength
Forgive
Kindness
Inspire
Lucky
Love
Gratitude
Each stone costs $21.99 plus $2 shipping and handling per stone within the US. Shipping is FREE for a purchase of 5 or more stones.
A FREE drawstring bag with insert card is included for each stone. (Please note that while the word can be chosen, there's no option to choose a specific color.)
For International shipping rates please email us at info@BodyMindWisdom.com
Forgive Stone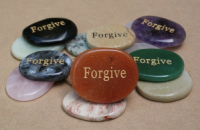 Sometimes, you just can't find the right words.  Purchase the Forgive Stone to tell yourself you forgive or to let someone know you forgive them, or as a way to ask for forgiveness.  Sometimes all it takes is to ask—and all is forgiven.
Forgive is to excuse somebody for a mistake, misunderstanding, wrongdoing or inappropriate behavior. Purchase the Forgive stone for yourself or someone else. Let this stone open your heart to forgive someone and to ask for forgiveness.
Strength Stone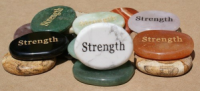 Many times we face difficult situations in our life.  Let the Strength Stone remind you of your inner strength.  Carry the Strength Stone to amplify your courage and energy to forge ahead.
Strength can be defined as power or force. It is the inherent capacity to manifest energy, to endure, and to persist. Purchase the Strength Stone for yourself or for someone else. Let this stone give you courage to face the challenges ahead.
Gratitude Stone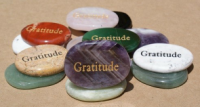 Gratitude is a virtue that all of us need to be reminded of. Our outlook on life is determined by how we think and feel. Purchase the Gratitude Stone to manifest gratitude to someone important in your life, or to remind yourself to always be grateful for the people in your life.
Gratitude is a feeling of being thankful to someone's actions. Purchase the Gratitude Stone to remind you to be grateful for all you have, or acknowledge your appreciation of someone else.
Kindness Stone
Kindness is something we often forget to acknowledge, and yet the little things we do for one another make the most difference.  Purchase the Kindness Stone for someone who makes a difference in your life, or to remind yourself to transmit kindness to the world every day.
Kindness can be defined as the tendency to be sympathetic and compassionate to others. Purchase the Kindness Stone for yourself as a reminder to do something kind every day for yourself or to acknowledge kind acts of others.
Inspire Stone
Purchase the Inspire Stone for someone who encourages and helps you in any facet of your life. Teachers, Doctors, Artists, Musicians, and Athletes are among the people who inspire us every day. You can purchase the Inspire Stone for yourself, as a reminder to live your life making a difference, or for someone else to share inspiration with them.
Inspire is the ability to encourage somebody to greater effort, enthusiasm, or creativity. Purchase this stone for yourself as a reminder to stay inspired in your everyday life or to acknowledge how someone else has inspired you
Love Stone
Love is an intense feeling of deep affection. Purchase the Love Stone to show you care about someone. By passing on a Love Stone you create a chain of stories that becomes a never-ending expression of Love.
Love is an intense feeling of deep affection. It also means fondness, tenderness, warmth and intimacy
Lucky Stone
Purchase the Lucky Stone to bring positive energy to a situation. It can also act as a reminder to be grateful, and focus your attention on the positives in your life. This is a stone that all could benefit from!
Lucky is defined as: "one having good fortune, or outcomes that favor positive results." Purchase the Lucky Stone to bring positive energy to yourself or someone else.
Organizations/Groups
If you are looking to promote the values of Kindness, Inspiration, Gratitude, Forgiveness, Love, Luck or Strength within your company or organization, PassItOnword® Stones are the perfect way to do this.
We offer discounts to organizations, businesses, places of worship or any group for stone purchases in quantities of 20 or more. Please contact us at info@BodyMindWisdom.com or 888-575-5332 for details.