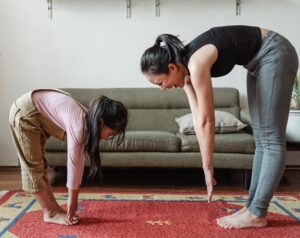 Photo via Pexels
While more people are receiving the COVID-19 vaccine every day, it could still be some time before we can all head back to gyms, fitness centers, and yoga studios. But you shouldn't wait out the pandemic to get your fitness back on track. Staying active at home is incredibly important for keeping your family healthy. Here are some tips and resources from BodyMindWisdom to keep your family active during the pandemic.
At-Home Exercise Ideas
There are plenty of ways to get active at home, whatever your age. Try yoga, Pilates, strength training, and fun family-friendly games.
Virtual Studios and Online Classes
Following along with virtual fitness classes is a great way to learn how to exercise safely without an instructor present.
Many fitness studios have a selection of online classes you can follow at home.
You can also find some family-friendly exercise videos on YouTube.
Women over 50 have several great options when it comes to online fitness programs.
Safe Outdoor Exercises
As long as you practice social distancing, venturing outside for fitness is a great way to enjoy the fresh air and soak up some sunlight.
Gardening can be a great source of exercise for people of all ages.
If your kids get bored with digging in the dirt, set up an obstacle course for them in the backyard.
For some social-distancing fun away from home, do some hiking or cycling in your local trails.
Engaging in regular physical activity plays a very important role in any healthy lifestyle. Take advantage of your backyard, stream some fitness videos on the TV, and come up with fun games for your kids to play. Every day, make sure your family gets active in one way or another.
Do you want to learn more about staying healthy during the pandemic? For self-care products and wellness tips, check out BodyMindWisdom today!